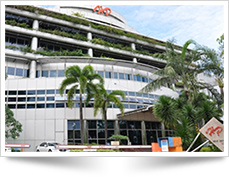 Hi-P established its industrial roots as an insert molding and metal forming tool maker founded in 1980. In 1983, current Executive Chairman and Chief Executive Officer, Yao Hsiao Tung acquired management of company. After the worldwide recessions of the mid 80's, Hi-P's success flourished with the expansion of overseas manufacturing facilities in 1993. Robust growth throughout the next 10 years, Hi-P is now known as one of the many defining moments, a listing on SGX, the Singapore stock exchange.
Today, as a leading contract manufacturing provider, Hi-P maintains a clear focus in contributing to our clients' competitive advantage by developing and providing manufacturing solutions of exceptional value.
An efficient, continuous work flow, utilizing the latest in technology and waste-free operations are the hallmark of the company. Coupled with its solid relationships with clients, these elements have provided the economic support to allow Hi-P to grow as a business that lives by its core values of integrity and finding the best possible solutions for our customers.
Execution Foundation
A strong Execution Foundation has been the cornerstone of the successful implementation of our corporate strategy over the years. At Hi-P, we are performance driven and yet, people-centred. Our people seek continuous improvement in all areas so as to maximize results. The principles of our execution foundation are applied consistently throughout all functional areas, from Finance, HR, Supply Chain, Quality, IT, to Business Development and Operations. The key areas of execution are:
Our VisionRecognized leader as an integrated electro-mechanical solution provider focusing on value creation and
exceeding customer expectations through innovation
Our MissionPartner with customers to add value and contribute to mutual success
Strong Organisation StructureAttracting, Retaining and Nurturing the best talents available
Effective Systems and ProceduresMaximize Productivity across the company
Effective Motivation MechanismEnforce a Transparent System that recognizes and rewards employees
Hi-P CulturePillars of Hi-P Culture: Results-oriented and People-oriented
Main Guiding SpiritContribution and Ownership
Core Behavioral PrinciplesGood Manners, Positive Spirit, Integrity, Discipline, Humility and Maturity
Execution DisciplinePunctuality, Commitment fulfillment, Focus and strict compliance, Follow-up thoroughly
History and Milestone
1980
Incorporation in Singapore
Hi-P Tool & Die




1983
Mr. Yao invested and managed the company




1987
Molex invested and became its customer




1993
First overseas expansion,
Hi-P Shanghai Electronics




1995
Revenue crossed US$10mil




1997
Hi-P Mexico, first in N.America
Changed name to Hi-P Singapore




1998
Hi-P Precision Chengdu




2000
Renamed Hi-P International
Hi-P Camera Products
Hi-P Spray Painting




2001
Hi-P Xiamen
Hi-P Mold Base Chengdu
Haier Hi-P JV Qingdao




2002
Hi-P Industries
Hi-P Tianjin




2003
IPO on Singapore Stock Exchange
Hi-P Suzhou Tech
Hi-P Suzhou Electronics




2004
Hi-P Shanghai Optical Lens




2005
Hi-P Poland, first in Europe
Hi-P Thailand
Hi-P Shanghai Tech




2006
Hi-P Dongguan




2009
Hi-P acquires G-Flex




2011
Acquired Motorola Singapore Design Center




2014
Hi-P Nantong